Welcome to Purple Visa Card
We're here to help New Zealand families get more out of everyday life with financial products and services from a trusted and loved Kiwi brand.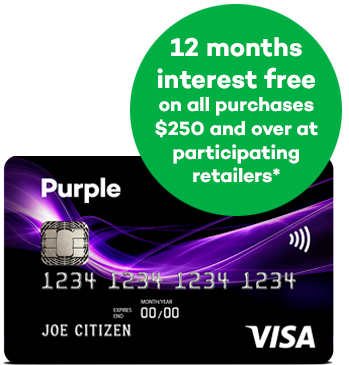 Not only can you use your Purple Visa Card for everyday purchases, but you also have the option of Interest Free finance at Participating Retailers.
*Terms and conditions apply including a $55 establishment fee and a $55 annual fee. Purchase interest rate: 22.90% p.a. Cash advance interest rate 25.90% p.a.
Advice about your credit card or related insurance is not regulated financial advice
You are protected by responsible lending laws. Because of these protections, the recommendations given to you about your application or account are not regulated financial advice. This means that duties and requirements imposed on people who give financial advice do not apply to these recommendations. This includes a duty to comply with a code of conduct and a requirement to be licensed.